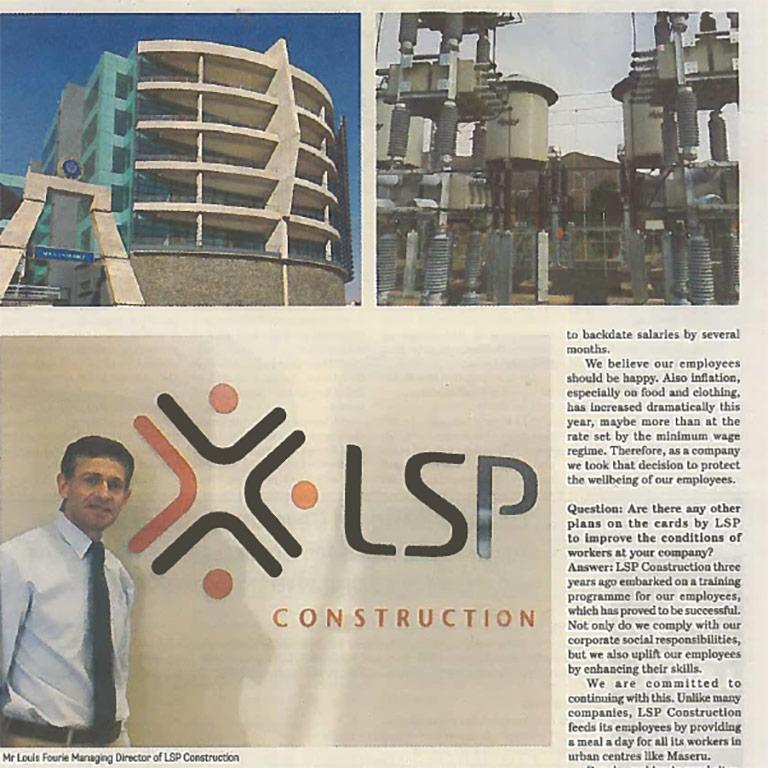 Mpho Sefali
The rising cost of living largely initiated by economic troubles rocking neighbouring South Africa have had negative ripple effects in Lesotho, whose loti is pegged at par with the rand.
The clearest symptom of this unease has been the labour unrest rocking Lesotho, especially from around July until last month. At the beginning of July, thousands of workers took to the streets protesting government's three-month delay in announcing the new minimum wage.
Each year in April Lesotho publishes a mandatory minimum wage schedule through a government gazette.
Textile workers were demanding a 15 percent wage increase, while their employers said they could afford seven percent.
Such a sharp difference between what the workers expect and what the employers can afford places the government in a very tight spot.
On one hand politicians would want to appease their restive voters who genuinely complain that the real value of wages has been eroded, on the other hand governments always want to ensure labour demands do not force investors to move elsewhere, especially in a country where unemployment is rising fast every year.
Public Eye had an opportunity to hear from Mr Louis Fourie Managing Director of LSP Construction one of the most successful local companies, which has been operating for more than 4 decades to discuss issues around the minimum wage. We chose to hear from LSP Construction because they are one of the few companies that are prepared to sacrifice their profit margins by backdating workers' current minimum wage to April.
Interview with LSP Construction Managing Director
Question: Is the minimum wage set by government in the range of what LSP expected?
Answer: Yes the gazetted min wage is in range and we think its market related.
Question: Is it adequate to cushion workers?
Answer: As much as monetary compensation to any employee is important, LSP Construction is of the view that this is not the best motivating factor. We strive towards an environment where our employees are happy to work for LSP Construction.
This to us is the best motivation. However, we agree and are compliant with minimum wages set by government.
Question: Given the different operational challenges in this environment, can companies really pay more?
Answer: Currently, the entire construction industry not only in Lesotho but in the whole Southern Africa region is going through a very steep decline due to lack of infrastructure spending and construction companies are currently not in a position to pay more.
Question: Is pegging a minimum wage every year by government the right thing to do and would you make any alternative suggestions.
Answer: We certainly believe it's the right thing to do and it protects employees from being exploited by employers. So, yes, we agree it should be there to protect workers.
Question: From your experience of running a large company, what advice would you give to policy makers regarding minimum wage?
Answer: As much as it is important to regulate the minimum wages, there should be a fine balance between what the industry can afford and a minimum wage set by regulating authority.
There is always the need for an employer to pay an employee so if you tax the employer too high ultimately there won't be an employment. And remember the construction industry is a large employer in Lesotho so there must always be the right balance between what the industry can afford and protection of the employee.
Question: Are you at liberty to disclose the minimum entry-level salary at LSP?
Answer: Currently LSP Construction does not have a minimum entry-level salary; we simply comply with the minimum wage set by the government. However, we are working towards a set minimum entry-level salary, which we hope to achieve within the next financial year.
Question: So what inspired LSP to backdate the minimum wage to April?
Answer: LSP Construction has been operating for more than 40 years now in Lesotho and historically we have increased our wages in April always. When the gazette did not come out in April as it usually does, LSP Construction management took a decision that whatever the increase was it would be backdated to April for our workers.
Of course, it's at a huge cost to our company although we can't disclose the amount to the public. Suffice to say LSP Construction prioritises the wellbeing and happiness of our employees more than the financial implication of the move to backdate salaries by several months.
We believe our employees should be happy. Also inflation, especially on food and clothing, has increased dramatically this year, maybe more than at the rate set by the minimum wage regime. Therefore, as a company we took that decision to protect the wellbeing of our employees.
Question: Are there any other plans on the cards by LSP to improve the conditions of workers at LSP?
Answer: LSP Construction three years ago embarked on a training programme for our employees, which has proved to be successful. Not only do we comply with our corporate social responsibilities, but we also uplift our employees by enhancing their skills.
We are committed to continuing with this. Unlike many companies, LSP Construction feeds its employees by providing a meal a day for all its workers in urban centres like Maseru. People working in remote sites, like remote mountains, are fed three meals daily for free because we believe we are not only obliged to keep our employees happy but we should also keep them healthy.
We have also had a community project at Ha Moletsane that has a community feeding programme for the elderly. All this is in addition to running a clinic where we employ two full-time nurses. So we are looking after that community's wellbeing. We are striving to have a healthy environment to ensure our workers always feel safe.
LSP has a very good safety record, which is set on very high standards, and we keep striving to improve this standard to ensure we sent our employees back home safe every day after work.We at LSP regard our employees as our most valuable asset.