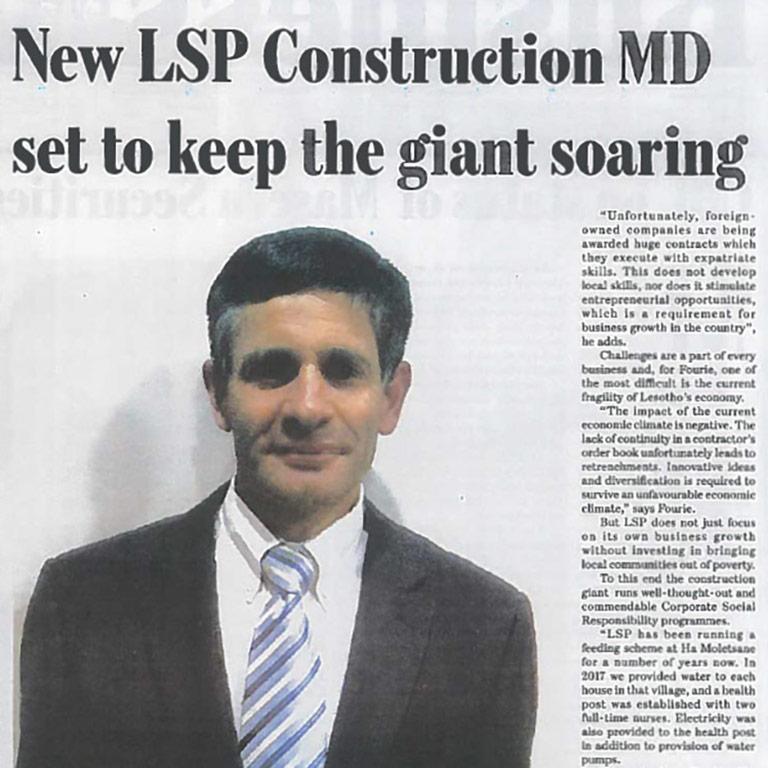 Mpho Sefali
It is virtually impossible to talk about LSP Construction without thinking about Mr Andre Thabo Bothma, who has indisputably been the company's most prolific chief executive, parachuting it to the high pedestal it occupies in Lesotho's economy.
Bothma, who has been with the company from 1992 and was appointed as its managing director two years later has steered LSP Construction through a series of landmark transformations for over 24 years.
Being a strong believer in private sector-led development, Bothma worked tirelessly towards building the company to becoming the toughest construction company in Lesotho with the most proven staying power.
The tried and tested construction firm keeps soaring and does not show any signs of stopping anytime soon, even with the recent change of guard at the company's top management with the appointment of a new chief executive.
"In 2014 the Bothma family made the decision that by 2018 the business should be managed by someone not in the family. This necessitated restructuring of operations, which led to the decision to recruit a new managing director", Bothma told Public Eye in an interview this week.
In April 2018 Louis Fourie, an engineer with more than 20 years' experience in the construction industry, took over as the company's new MD.
According to Bothma, LSP's recruitment policy has seen the company recruiting and retainng the most qualified candidates for different responsibilities and positions.
"Judging by Mr Fourie's corporate experience, LSP's corporate values and core businesses, against the backdrop of our criteria for choosing a managing director, he passes with flying colours", adds Bothma.
Fourie started his career as a civil engineer with Consulting Engineers back in 1996. He joined LSP Construction in 2015 as contracts manager and rose to become a director of LSP in 2017.
The 45-year-old family man is actually in his second stint in such a position, having assumed a similarly high-ranking position at Aurecom in 2009, for the MCA Health Improvement Project in Lesotho where he served as a registered professional projects manager.
Fourie was also involved in property development — an area where LSP Construction is actively involved — where he was an administrator in several luxury estate developments in Gauteng, South Africa.
In addition to a Bachelor of Science (Honours) degree in Technology from the University of Pretoria in South Africa, Fourie is also a holder of a Bachelor of Technology degree in Civil Engineering from the Pretoria Technikon.
On his part Fourie pays tribute to pacesetters Danny and Andre Bothma for their sheer hard work which saw them build the company from ground level up to the dizzy heights of becoming the leading construction company in the country.
"Danny Bothma and then later Andre Bothma have built the company from the ground up to the level where it is a leading building construction company in the country.
"This was done through hard work and innovative ideas. Taking over as MD can be seen as a daunting task, but a good example was set by Andre who leaves clear footsteps to follow in," says Fourie.
He adds that he is proud of the vision, mission, values and massive progress made by the company over the years.
However, Fourie also notes that "Directing a company that was run for a long time largely as a family owned business, I wish to introduce slight changes to the administration style.
"LSP Construction will have to diversify more in order to grow. We are currently considering other options available", he says.
Comparing the construction industry in Lesotho to that of South Africa, Fourie observes that while there are similar patterns in lack of infrastructural expenditure in both countries, the difference lies in availability of expertise and skills.
"There are certain similarities, like the current general lack of infrastructure expenditure in both countries. The big difference is the much smaller pool of local expertise and skilled labour available in Lesotho," he observes.
On suggestions of what the Government of Lesotho could do to ease doing business in the country, Fourie notes, "Incentives for employing and developing local skills, especially professional and skilled labour would make a difference.
"Unfortunately, foreign-owned companies are being awarded huge contracts which they execute with expatriate skills. This does not develop local skills, nor does it stimulate entrepreneurial opportunities, which is a requirement for business growth in the country", he adds.
Challenges are a part of every business and, for Fourie, one of the most difficult is the current fragility of Lesotho's economy.
"The impact of the current economic climate is negative. The lack of continuity in a contractor's order book unfortunately leads to retrenchments. Innovative ideas and diversification is required to survive an unfavourable economic climate," says Fourie.
But LSP does not just focus on its own business growth without investing in bringing local communities out of poverty. To this end the construction giant runs well-thought-out and commendable Corporate Social Responsibility programmes.
"LSP has been running a feeding scheme at Ha Moletsane for a number of years now. In 2017 we provided water to each house in that village, and a health post was established with two full-time nurses. Electricity was also provided to the health post in addition to provision of water pumps.
"Our aim is to develop the health post to a fully-fledged health centre over time", Fourie says, adding that in partnership with BEDCO, LSP Construction has been running a MSME's Development Programme since 2017.
Lesotho Steel Products (Pty) Ltd came into existence after a trio led by the Bothma brothers, Abe and Danny, together with Mr George Monaheng, purchased a 75% stake in a company which was owned by the Lesotho National Development Corporation in 1976, making LSP Construction today an LNDC success story.
At that time, the company's core business was structural steelworks fabrication- making of security gates and fences, steel windows and doors, among others. Throughout its operating years, LSP has gained acclaim for its innovative approaches to construction.
The company ventured into commercial building projects, residential buildings, construction of power lines and substations, as well as an employee development programme that provided educational classes and training to the workforce, including on-site training centre for its staff.