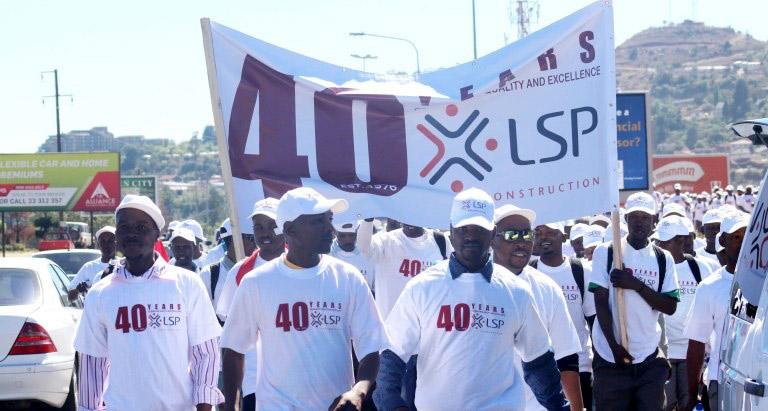 Bereng Mpaki
LSP Construction this week celebrated 40 years of operations with its "most important assets"; its employees.
The commemoration, which was held on Monday, a day before Lesotho's 50th Independence jubilee anniversary, was celebrated by the LSP management and workers who took part in a fun walk from the company's headquarters in Maseru Industrial Area to its Training Centre in Masowe, where festivities ensued. They were joined in the festivities by friends of LSP Construction and captains of industry.
In his remarks at the ceremony, LSP Construction Managing Director Andre Bothma attributed the success of the company to the hard work and dedication demonstrated by its employees over the past 40 years.
He said the company's policy had always been to look after its employees well, as they regarded them as their most valuable assets.
The company currently employs over 1 200 workers, with 120 in management, 600 skilled employees, while the rest are unskilled workers.
Mr Bothma also paid homage to the strong leadership from the chairman who is also his father Danny Bothma, and George Mohaneng, who is one of the founding directors of the company.
Mr Monaheng and the Bothma family jointly own LSP Construction with the Bothma family controlling 87.5 percent while Mr Monaheng has a 12.5 percent stake.
"In June 1991, when I arrived at LSP Construction, we had only 47 employees. On Friday last week, we paid salaries for 1 260 employees that are on our payroll," Mr Bothma said.
"Together with our employees, we have built this company to what it is today, and this has been achieved through hard work, dedication, team work and the grace of God."
He said the commemoration was a good opportunity for bringing their staff in one place to celebrate together.
"We should have more functions like this. It has always been this company's policy to build our staff and in so doing building our country. Our most important asset in this company is our employees."
During the celebrations, the company also recognized some of its longest-serving employees. Company director Mr Monaheng received an award for the longest-serving member of the company with 40 years of service, while Fako Moretlo, Lillian Sehlooho and Stephen Roestoff were awarded for service of over 20 years in the company.
There were also 16 employees who received awards for the service of over 10 years in the company.
Narrating his journey with the company since 1976, Mr Monaheng said he had no idea where they would end up when they started, and had to adjust to challenges accordingly along the way to remain afloat.
He said they initially started out with steel construction, with building factory shells for Lesotho National Development Corporation a major customer, and later incorporating school furniture manufacturing.
Mr Monaheng said the company was initially known as Lesotho Steel Products, and changed its name to LSP Construction when the company diversified its line of focus which now includes civil works.